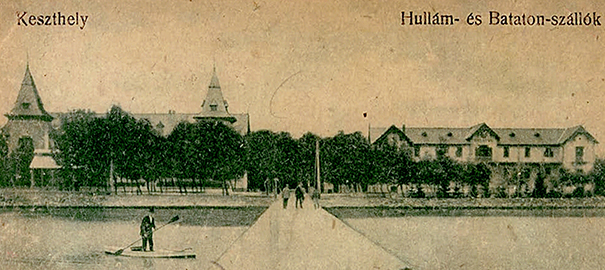 BMEEPRAT711
Obligatory subject: Faculty of Architecture, Regular and Master English Program
8 credits
ATTENTION!
Due to switching to distance learning the timetable changes! Please, go to the department's Moodle page.
https://edu.epitesz.bme.hu/course/index.php?categoryid=22
project description
Hotel Hullám, Keszthely - Balaton Region
preface

Our design project this semester focuses on the prominent historic building of 'Hotel Hullám', located in the vicinity of the pier. The urban function and role of the hotel building - that is still in operation, yet, once experienced more glorious times - is in a need of reconsideration.
The scope of the semester project may provide a complete functional reevaluation or a contemporary rendition / revamp of the hotel building.
While the redesign of the opposite - currently vacant - companion building of 'Hotel Balaton' does not form part of the project, both the building and the adjacent park needs to be conceptually integrated into the semester project.
There are two midterm presentations scheduled during the semester. The first presentation shall clarify the functional concepts, while the second shall present the design development that elaborates and reflects on the established concept.
The semester concludes with a set of drawings at design permit level (1:100 plans, sections, elevations) and sufficient number of graphical visualizations and renderings. The project includes a 1:500 / 1:1000 conceptual landscaping proposal for the adjacent park with a potential rearrangement and inhabitation.
course director
Szabolcs Portschy
project details
All necessary documentations, detailed project description will be provided prior to the start of the semester.
schedule
09.12.

University Sports Day (no scheduled class)

09.19.

Program and site introduction

09.26.

Site visit (Keszthely)

10.03.

Conceptual, functional and site analysis

10.10.

Individual research, presentation of the concepts

10.17.

Concept development (1:200 schematic drawings)

10.24. Midterm

Studio Week (no scheduled class)

10.31.

Midterm presentation

11.07.

Consultation

11.14.

Consultation

11.21.

Demonstration: architectural graphics, graphical layout

11.28.

Consultation

12.05.

Final presentation and consultation

12.12.

Studio Week (no scheduled class)
final submission
December 13, 2019 (until 12pm) (digital upload)
December 20, 2019 (until 12pm) - Late submission (late fee applies)
photos

preliminary application
If you are interrested in joining the course please send a mail to This email address is being protected from spambots. You need JavaScript enabled to view it.. (Official registration needs to be done on NEPTUN.)