VISUAL & CREATIVE (SPATIAL – CONCEPTUAL – MEDIA) ARTS
Below is the list of proposed creative and research topics offered by the Department of Graphics, Form & Design. Our department encourages everyone interested and welcomes individual project proposals as well.
Information and registration AY 2022/23 →
General Faculty informantion about the Students' Scientific and Arts Conference:
News and updates - TDK on the Faculty website: https://tdk.bme.hu/EPK

General TDK information for the Department of Graphics, Form & Design:
Ferenc Sebestény DLA,
Coordinator of TDK Section 'Visual & Creative Arts'
This email address is being protected from spambots. You need JavaScript enabled to view it.
Szabolcs Portschy,
Department Advisor for the English Program
This email address is being protected from spambots. You need JavaScript enabled to view it.
For detailed information about a specific topic:
Contact the instructor of the topic directly (contact info in the 'Department' section of this website)
Preliminary registration:
In case of a concrete idea for a concept, send a brief summary of the proposed research / creative project with the name of the selected instructior to the Department Coordinator (prof. Sebestény).
In case of a general interest without a concrete idea, send a description of your fields of interests, preferred topic(s) and name(s) of the potential instructor(s) to the Department Coordinator (prof Sebestény).

List of available instructors and individual research and creative project topics of the Department of Graphics, Form and Design for AY 2022/23:
BALOGH, Emese, DLA:
Architecture - light - music. When the architectural work sounds. Examination of the metaphorical relationship between architecture and light, architecture and music.
'This' is the form. Architecture is the art of finding forms. Playing with shapes, shaping them consciously or intuitively. But why is 'this' the form rather than the other?
NEMES, Gábor, PhD:
Early masters of deconstructivist architectural drawing
PORTSCHY, Szabolcs:
Virtual creative space and forms through photography. Narrative space-transformation: 'meta-space' / associative visual metaphores. Experimental visual space. Form-Texture-(Im)Materiality.
Urban textures. Architectural photo & video. Humans and their built context - narrative, interaction as compositional element. (Sub)culture of the built environment.

The architecture of music and the music of architecture. Interrelations and allegories between architecture and music. Abstraction, harmony, dissonance / tonality vs. atonality.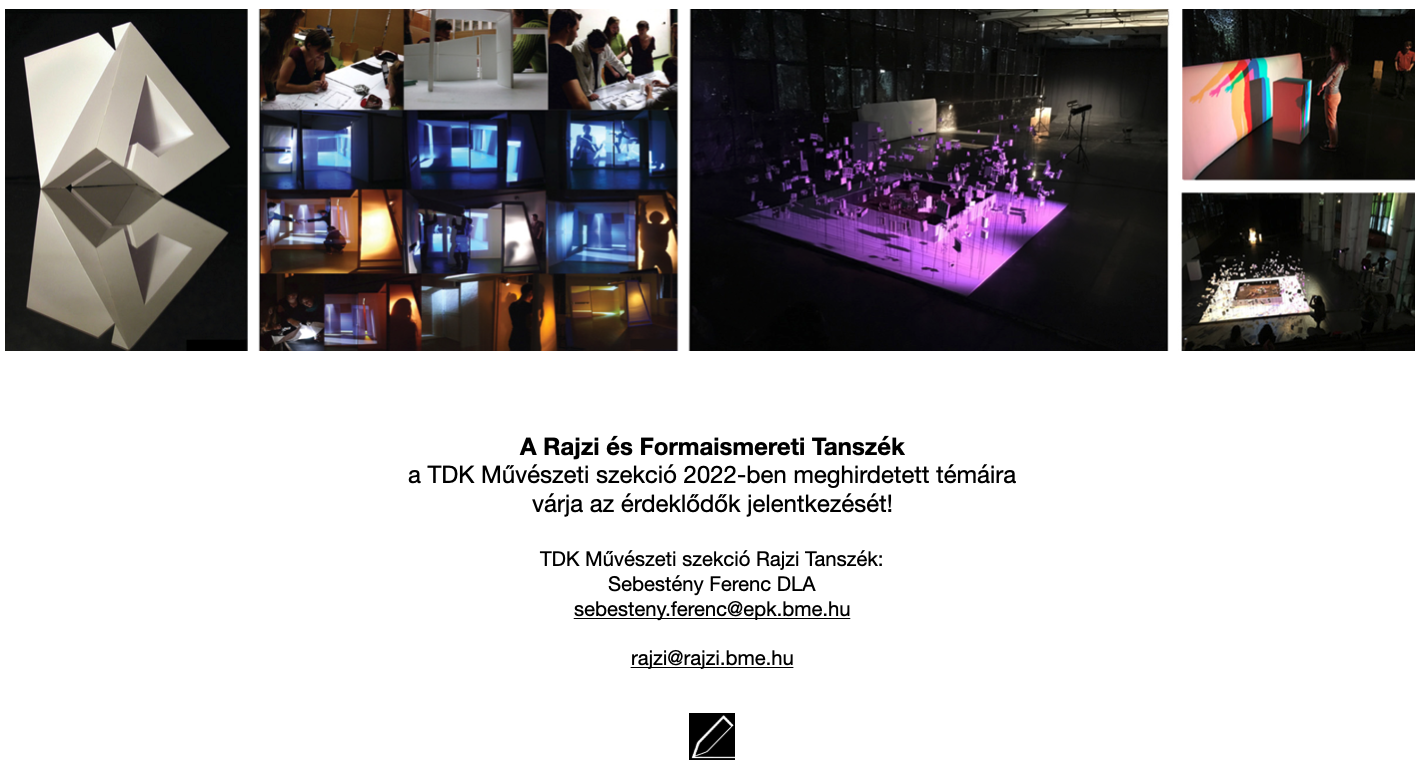 ---